Winters and Frozen Pipes:
Winters bring along lovely days. It's cold, chilly and a great time to enjoy with family and friends. However, there are many places who have to face adverse effects as a result of winters. Places which experience severe fall in temperatures, can experience something called frozen pipes. As the name suggests, this is a situation whereby a fall in temperature causes all the pipes to freeze. It is not very difficult to get rid of frozen pipes. But it's more difficult to figure out how the pipes froze. Let us take a look a story how to identify frozen pipes during winters.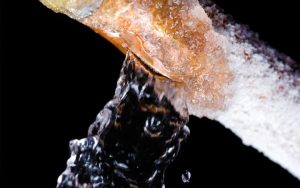 How to identify frozen pipes:
If you live in a house or apartment, you will notice that there are a number of pipelines all across your home. These pipes can be connected to your bathroom, kitchen, and your sinks. These are interior and exterior pipes. You would often not know how deep these pipes have gone. The steel parts might often freeze.
Look for hints: be the Sherlock Holmes of your household. You need to figure out the portions of the house that are affected due to winters. If all the taps of one room don't work, this means the pipes of that room have been blocked out from the main pipe. If the water is available in the ground floor or top floor, you have to understand that there is a frozen part in between them. In case nothing works, understand that there is the problem with the main pipe and the supply line.
Once you figure out which pipe is frozen, it is time to get to know which specific part of the pipe is frozen. Now, it can be two ways. It can either be an open or exposed part of the pipe. It gets more difficult when the pipe is inside the walls. When you touch the pipe, you will get to know as the frozen area would be colder than other parts. If there is a problem in the main pipe, you will find the frozen area near the basement.
If you are still not able to find the frozen region, you may want to contact a professional. As professional they are experts and will find the start of the problem in no time.
How to mend this frozen pipe:
Once you know the affected area, you need to make sure that the ice is diluted. You can use warm clothes dipped in hot water or a warm heated pads. This will melt the ice quickly. You should observe and keep an eye in order to avoid over heating of the pipe. Make sure you to not use an open flame. Open flames may become harmful.
Frozen pipes are not the end of the world but the sooner it gets checked, the better. If you wait too long, this will only stop water supply or affect the whole sewage system in your home. Call a plumber to get rid of this unnecessary problem so that your home is up and running and you can enjoy your home with your family and friends.